---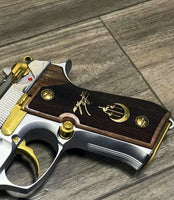 Beretta 92 FS INOX custom pistol grips made of walnut wood with custom logo and text made of Pure brass.
we can make them fit for: Beretta 92 & 96 & 98 & M9 Full Size,Beretta 92G ELITE LTT,Beretta 92 Compact,Beretta 92S,Beretta 92 FS inox,Beretta M9A1.please send us your pistol model and clear instuctions at checkout.
1 mm thick sheet of Silver is cut, engraved and inlaid into the grips . Finally, surface cleaning is made for shiny appearance then polished with care for durability and long life.

Materials used in this grip

Grip body - Walnut
Custom image - pure Brass

How to Customize Your Grip

We can make your special logos and words with pure silver and bronze inlayed to the grip body. We use walnut, plexiglass or rose wood as grip material those are very durable for daily use. The grip body can be plain or have checkering, dragon skin or any other surface you like made with laser engraving. We can customize four areas on the grips as seen below.

Top areas we can inlay your name, preferred words or initials up to 10 characters.

Center areas we can inlay again text or usually images. The images you like can be from other grips we have in our portfolio. You can enter this information in the description field.

If you prefer to use your own images, it is also possible .please send us your photos.

Kindly note: We may have small corrections/adjustments on the design due to the size or appearance of your logos. You dont have to fill all available areas, you can leave any area to the base design due to your final expectation.

Create your OWN GRIPS HERE: ( Show me how )

Top left text / initials (10 chars max) :
Top right text / initials (10 chars max):
Center left text / image description:
Center right text / image description:Gov&com
Grip Size Options: fullsize/compact (officer)
Grip Bottom Options: magwell/standard Beveled

Upload your own images if available
jpg files only (500kb max).
Please name your picture filename differently.
You can contact us at anytime.i will be glad to assist you.