---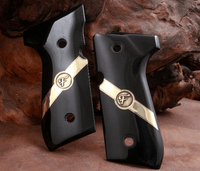 Beretta 92FS custom pistol grips made from Black Acrylic PMMA and Design made of Pure Brass.
1mm thick sheet of Pure Brass is cut, engraved and inlaid into the grips as he has dreamed of. Finally, surface cleaning is made for shiny appearance then polished with care for durability and long life.

We can apply All designs to all models available in our shop.If you want your own Logo or design,we will do it.

custom pistol grips benutzerdefinierte Pistolengriffe poignées de pistolet personnalisées impugnature a pistola personalizzate custom handgun grips empuñaduras de pistola personalizadas